Mole hidden text or image security feature
Mole hologram hidden text(image) is advanced digital technology by encrypt a digital codes to encoding each dot of the images. Mole hidden text or image contains unique encrypted images or text, invisible to the naked eye. Mole hidden text just can be detectable by means of decode film when you cover it onto holographic sticker. The hidden text or image will appear when you put decode film onto it. Please click here to see sample.
E-beam hidden text or image security feature
E-beam hidden text (image) is another advanced holography technology which make hidden image(text) directly in hologram master too. Hidden image(text) is invisible to naked eye without encryption reader(laser pointer). It's just can be seen with help of laser pointer. The hidden text (image) will be reflected out of the sticker when you light a laser pointer point to it.
There're two kinds of hidden text or images available for holographic stickers. This two kinds of hidden features improve the hologram stickers security feature very much agaist counterfeit. One is laser readable hidden text(image). It's called E-beam hidden text too.The hidden text of image justcan be seen with help oflaser pen(laser reader). Another one is mole hidden text which use decode film to see the hidden text.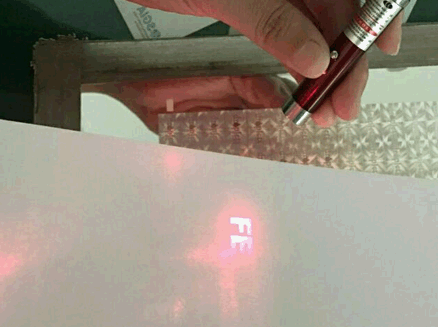 There is hidden text inside image. It's invisible to naked eyes.

Hidden text can be seen with laser beam. The hidden letter is 'JIH'. The nickel shim in hand is small hologram master. Hidden text or image feature hologram is invisible to naked eyes in sunshine or normal lighting conditions. Hidden text or image just can be seen with sepecial laser pointer (or called laser reader).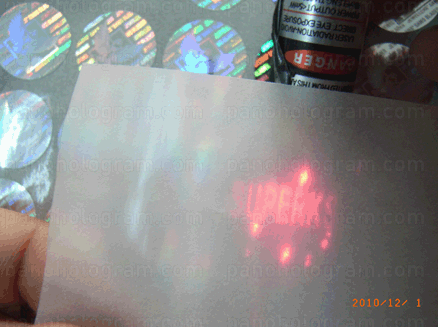 Mole hidden text/image or Raster effect, is a hidden effect which also called Moore Effect or Morie Effect. This photo is hologram sicker without decode film to cover it on.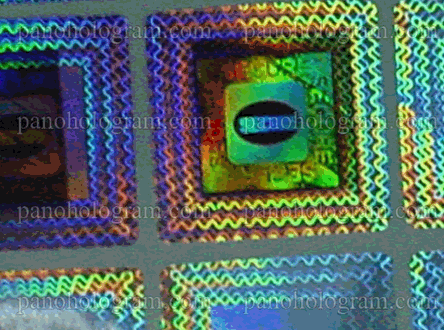 We can see hidden text come our after we cover mole decode film onto the sticker. The hidden text is 'SECURE'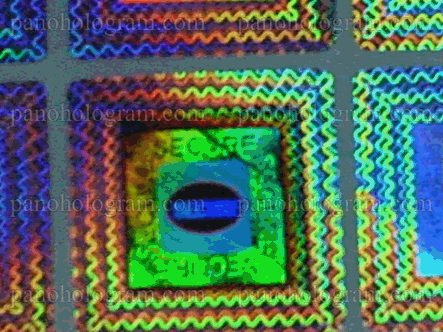 We can see hidden text come our after we cover mole decode film onto the sticker. The hidden text is 'SECURE'