Hologram security label with QR code and running no. printing that have very popular. Because stikcer that can be directly 2 ways comunication with end user of any products. Most that products owner want to make sure and reconfirmed to their customer that products in customer hand that original one from factory. However, the QR code that have many kinds and details of printing design such as QR code for GPS checks, One by one QR code unit, one color QR or Multi colors QR , Anyway, most safety of QR that we will be make Scratch cover QR or Passward in order to mke sure the end user one get it.
Black color QR code with Gray color scratch cover on Hologram golden color materails
We printed black color " Scratch here" in order to let customer scratch it.
Paper sticker with QR code and also have hologram security hot stamping of label.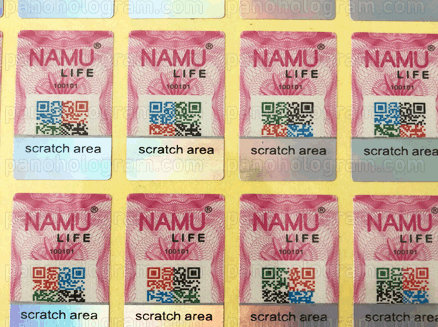 Multi color of one by one QR code with random passward under rainbow color hologram scratch.