Hologram Scratch Security
The Hologram Scratch security that very femosed in any business group such as Banking, Telecomunication group etc on mobile card, member shipment card, lottery, ticket, bank documemt, etc, for high security purposes. The hologram image improves security ability of scratch coating greatly instead of normal scratch coating which is used for mobile cash cards or gift coupons usually. We produce both hot stamping foil scratch hHologram and scratch hologram sticker(label). We can make customized design Scratch Off Hologram with your company name, logo as well as general design hologram scratch.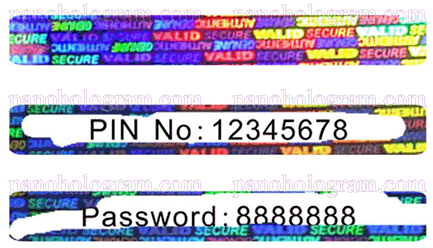 The PIN code. is corvered by hologram image. After your scratch the hologram coating by nail or coin, you will see PIN code on card, such as prepaid scratch mobile charge card or ticket. Our scratch hologram can be scratched cleanly and easily.